January has been such a crazy month! I feel like it's going just as fast as December... maybe even faster! So, I thought I'd share a little of what I'm currently up to!
Cooking & Eating:
All the vegetables & protein. I'm trying to cut down on the amount of carbs I eat by tracking my macros. It was eye opening to see how many carbs I was eating a day!
Drinking: Iced Tea & lots of water. My brother-in-law got me a HydroFlask water bottle for Christmas & I've been using it every day to make sure I get enough water. I fill it 3 times per day, so I'm getting just over 90 oz.
Reading: I just went to the library & picked up a few new books. I just (and I mean I'm only one chapter in) started "Ugly Love" by Colleen Hoover. I loved "It Ends With Us," so I'm hoping this one will be just as good!
Wanting: To book a vacation somewhere tropical! It'd be a whole lot easier to be motivated to have a bikini body if I was going somewhere to show it off! It'll be another 3 months (at least) before it'll be even close to swimsuit weather here in New York!
Playing: Well... I don't call it "playing cheerleading" but we're in the throes of cheer season. I have competition for 8 weekends straight & this upcoming one will be 3/8. So we have a ways to go...
Wasting:
All the Christmas candy that students bought me. It's either gone in the trash or been given to someone else. As much as I love candy, it's not something that satisfies me, so I don't waste my calories on it.
Buying:
Groceries, groceries & more groceries. It's absolutely amazing how many groceries we go through these days! No matter how much I buy on Sunday, I still have to do a mid-week run on Wednesday. We eat so much healthier when we cook at home & it saves so much money in the long run, but the amount of groceries is overwhelming! Thank goodness I don't have boys!
Wishing: I had a more flexible schedule. Sometimes it's really hard to miss Ella's school events to come to work. Sometimes it's hard to miss a workout because I have a meeting. Sometimes I just want 10 minutes of peace & quiet. I love teaching, I just wish it was more flexible.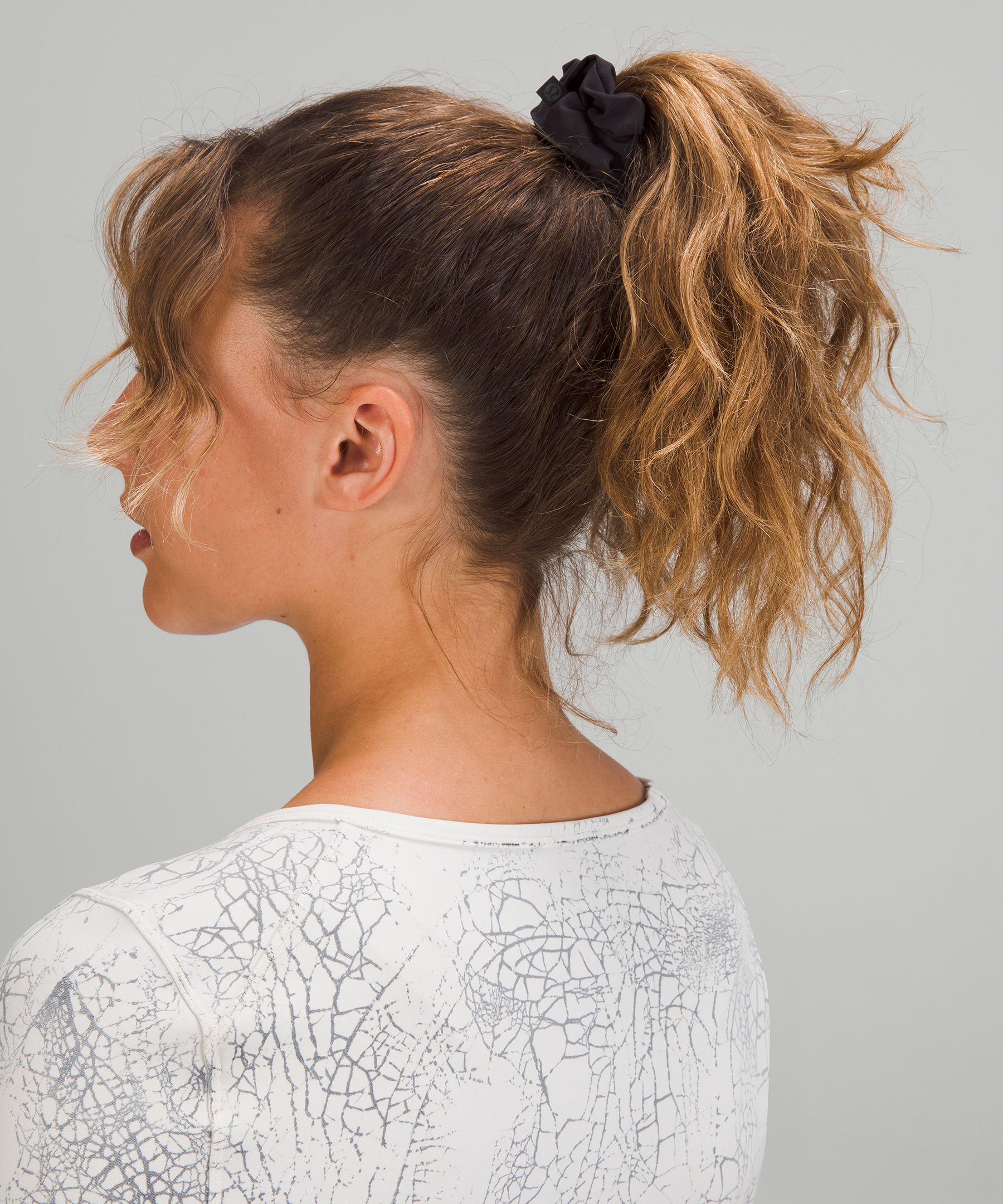 Loving: Totally random, but I'm loving my new Lululemon scrunchie. Yes, I said scrunchie. It's perfect because it doesn't leave a crease in my hair while I workout! And it's a cute blush pink color that I love. I want one in black now too!
Hoping: That I make it home before Eric so he doesn't see all the packages that are scheduled to arrive today.
Marveling at: My girls. They truly amaze me. Ella can READ. I mean, really read. And Olivia is suddenly talking in complete sentences. I can't get over how fast they're growing. #dontblink
Needing: A trip to the salon. My hair needs highlights & layers.
Smelling: A smuggled Bath & Body Works Wallflower that I'm not supposed to have at school! #shhh It's the Campfire Donut scent & I don't have it plugged in while the kids are here, but fifth graders are stinky, so I plug it in while I work in the morning to give me a little reprieve.
Wearing: I have been living in workout clothes lately. Basically, if I'm not at school, I'm in yoga pants & some sort of athletic jacket or sweatshirt. I'm just really into being warm & comfy right now. Maybe I'll get it pulled back together come spring.
Praying: For all the families affected by the government shutdown. Politics aside, I feel bad for people who have lost their income for an indefinite amount of time. That can't be easy & must be incredibly stressful. I'm praying it is all resolved in a timely manner for the sake of these families.
Noticing: That it's easier to track my calories & get up to workout in the morning than it was three weeks ago. It really is becoming routine & I feel so good right now that I can't even complain anymore.
Knowing: That if I stick with my workouts & healthy eating, I'll feel like a million bucks by March!
Thinking: About summer plans. It's a ways away, but I can't wait to have days at home with my girls in the sunshine! We're in the process of planning our big family vacation for the end of August, so it has been on my mind a lot lately!
Opening: My yogurt to eat breakfast :)
Giggling: Over Olivia's antics. She is really something else these days! You need to watch my InstaStories, not for me, but to see her. She will brighten your day, I promise.
Feeling: Well rested. Which isn't something I always say. I've been turning my phone off at night & going to bed instead of scrolling through social media for hours. It's making a big difference!
What are y'all up to?