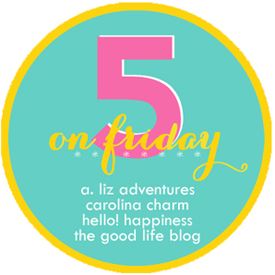 1 - I'm up to my ears in the poetry unit & can't seem to keep myself from spewing alliteration at all times. Hence, the title of this post. It doesn't help that I read at least 20 children's books each evening too, so there is no escaping it at home either!
2 - I read this article last night about ten books that could revive the teen romance film genre. I don't know if anyone else has missed these types of movies lately, but I certainly have. I mean, I love Twilight & Hunger Games, but I kind of miss movies about real life. I've already downloaded two of the books on the list & may even read all ten...
3 - Ella has absolutely destroyed my iPad case, so I've been on the hunt for one for what seems like forever. I don't want to pay an arm & a leg, but I also wanted something that was more interesting than a solid sleeve. So when I saw Laura's new case on Instagram the other night, I knew that I had to have it! It isn't available on Shop Riff Raff's website, but I was able to find it here online.
4 - Ella is all signed up to take swim lessons! I am so excited. She was a total fish in Florida & we plan to spend a lot of time in the water this summer. (One of my friends just bought a lake house!!) I have to go in the water with her though, and I don't feel like it's appropriate to wear a bikini in the YMCA pool, especially when I regularly see students there. So, I'm on the hunt for a swim shirt. I found a few options at J.Crew, but if you see any cute ones let me know!
5 - We're going out with friends for Hibachi tomorrow night. I'm really excited about it because a) we never go out with other couples (other than my sister & Matt) & b) I've only had Hibachi with a group of third graders. I'm assuming it'll be totally different. Or at least let's hope so...
Happy Weekend People! Let's kick it old school...