Happy Friday Everyone! Thanks to the Polar Vortex, it feels like this week has flown by. I could barely believe it when I was watching TV last night & the Big Bang Theory came on. Yes, I often correlate the day of the week with what's on TV. Don't act like I'm the only one...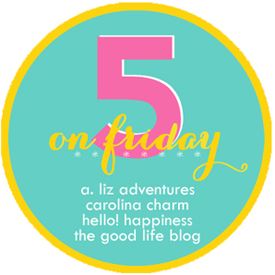 One - Back to my Pre-Holiday Weight!

I've got to be honest. I've been pretty impressed with myself at how motivated & on top of things I was in losing those three pesky pounds. I know three pounds doesn't sound like a lot, but I've lingered at three pounds for months before. I was very strict about my eating the past two weeks though & it has paid off. I've also been trying a few new things and can't wait to share them with you next week!
Two - New Jeans

I got an email from J.Crew on Tuesday morning tempting me with 40% off their sale. If I was at work, I would've been able to ignore it. But I was at home with my iPad in my lap, so I went for it. Thank God I did! I found the most perfect pair of distressed toothpick skinnies! They arrived yesterday (super fast shipping, even when I only paid for standard) & I am in love. I'm wearing them today!
Three - Competition Tomorrow

Tomorrow is my cheerleading squad's first competition of the season. As always, I'm a hot mess of anxiety over it. I worked so hard on this routine & want them to look flawless on the mat. I keep reminding myself... "They're well prepared for it & I think they'll do amazing." It's basically my mantra for the next 24 hours. Adding to the anxiety is the fact that I have no idea what I'm going to wear... huge problem.
Four - Growth Spurt

Ella has been going through a serious growth spurt over the past two weeks. I thought maybe it was just my imagination, but then my parents commented on it while we were Facetiming this week. She's been eating me out of house & home, so I certainly hope it'll be over soon. I'd hate for her to outgrow all of the clothes she just got for Christmas!
Five - A Giveaway!

It's time for a giveaway! I know everyone else wants to get back to their pre-holiday weight, so I'm giving away a $20 giftcard to Lululemon! The winner will be announced on Monday, all you need to do is enter below...
Happy Friday!