Today I clicked onto Life: Oceanside & saw the fitness survey that the girls were featuring for their Curing #NOtivation series... I had to fill it out!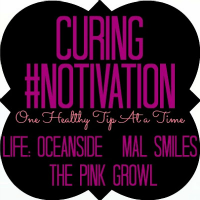 #NOtivation Fabulous Fitness Survey
1. What do you eat for breakfast?
During the school year, I eat yogurt or a Clif Bar as soon as I arrive for work. Right now, I'm eating 2 eggs with an egg white for breakfast. If I'm really hungry I'll add some turkey sausage or ham to the mix. I love being able to eat breakfast at home. It really helps me stick to protein & avoid carbs!
2. How much water do you drink a day?
Tons! You know the 32 oz. cups you get at Dunkin' Donuts? Well I chug those. Yesterday I drank at least 4 of them in water, let alone the iced tea I guzzle. I'm a very thirsty girl.
once my iced tea is gone, it's time to refill with water!
3. What is your current favorite workout?
I love to run. My ideal distance is 3 miles. I also really love walking with Ella in the stroller. It may not be the most intense form of exercise, but I love being outside with her & she loves her stroller too! It's such a peaceful part of my day.
4. How many calories do you eat a day?
I've trained myself to eat between 1200 & 1400 calories a day. Are there days I go over? Absolutely. But if I'm at home or on my regular schedule, this is what I default to. Even on vacation, I rarely go over 1500 - mainly because I'm not a huge boozer.
5. What are your favorite healthy snacks?
- YoCrunch Yogurt
- Bananas with Peanut Butter
- Small portions of SmartFood Popcorn or Pirate's Booty
- 2% Mozzarella String Cheese
6. What do you usually eat for lunch?
This varies drastically. During the school year, it's either left overs from the night before or a sandwich with two of my fave snacks from above. Right now, I'm at home and can cook a real lunch. So, I've been eating more salads with grilled chicken. So fresh & delish.
homemade buffalo chicken salad -my fave!
7. What is your favorite body part to strength train?
I love to strength train my legs & booty. I love squats & all of the leg machines.
8. What is your least favorite body part to strength train?
Abs... I never feel like I'm getting anywhere with them!
9. What are your "bad" food cravings?
Chicken fingers & french fries. They're my favorite foods & are so bad for you. I make the right choice 90% of the time, but I have to splurge every once in awhile - especially if they're waffle fries.
10. Do you take vitamins or supplements?
I did while I was pregnant & probably shouldn't have stopped.... whoops!
11. How often do you eat out?
We used to be awful about this, but since having Ella & tightening the budget we limit ourselves to once a week. The only exception is if my parents are in town, in which case it's more than that. They love to eat out.
12. Do you eat fast food?
Yes, I know what I can and can't have when I go there. I also know which fast food restaurants are best to hit up & which are best to avoid. I did a lot of menu/calorie studying when I was on Weight Watchers, so they really don't intimidate me anymore.
unsweetened tea & a crispy chicken salad from McD's
not healthy for you, but a hell of a lot better than a 10 piece with fries
13. Who is your biggest supporter?
Hmmm.... I'd say my husband. He loves my body just as much as I do & is always supportive of my running schedule. He was amazing during half-marathon training. My mom is also amazing. We lost the weight together 6 years ago & have kept it off together. She was right next to Eric cheering me on as I ran the race in April! Love them!
14. Do you have a gym membership?
Yes - I don't use it much during the summer, but it's more expensive to cancel it and rejoin than the just let it go through the summer! So, I hit up classes once a week or so & head there when it's just too hot to run outside.
headed into the gym for a workout!
15. How many hours of sleep do you get a night?
About 8 - it depends on Miss Ella. Right now, she's teething so it's less.
16. Do you have a "cheat" day?
Nope. I have cheat moments. I can't schedule my life around a cheat day. I exercise restraint 90% of the time & if the moment is right, then I splurge. It usually involves dining out, which we do sporadically.
17. Do you drink alcohol?
I used to love a good cocktail, but I'd rather eat ice cream than drink a Smirnoff these days. My one indulgence is frozen strawberry margaritas, but I have them so rarely it's a total treat when I knock one back.
Strawberry Margaritas!
18. Do you have a workout buddy?
Ummm... does Ella count? No, then no.
19. What is the best thing that has changed about your life since committing to a healthy lifestyle?
My body! I love my runner's body! I don't pay attention to the scale anymore & go by how my clothes feel. Knowing that so many of my shorts from 2 summers ago (I was preggo last summer) are loose is really motivating! It's such a self-esteem boost to be one of the skinniest/fittest girls at the pool & it gives me something to think about while I'm out sweating my ass off on a run.
20. What was the last healthy thing you did?
I walked 3 miles with Ella this morning to get my Dunkin' fix. She loves to be in her stroller & it's so peaceful at 7:30. It's something we both love doing & it gets my day off to a healthy start.