Today I'm linking up with my love Laura for her Trend Spin link-up, which you should check out because I'm also hosting a giveaway with her today!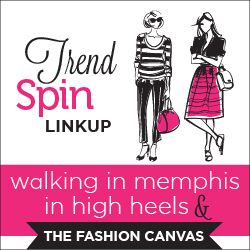 The theme really struck a chord with me, because our family is extremely patriotic. In fact, my husband takes patriotism to a whole other level. For example...
If you don't want to go all out like Eric does, then I suggest you take a subtler approach like Ella & I do. We aren't totally sure what we're going to wear yet. The weather is totally unpredictable in Upstate NY, so I try not to get too attached to outfits in my mind. It's looking like high 70's or low 80's, so I should be ok with any of my options below. Here are a few of our favorite looks for this 4th of July.
I absolutely loved her in this outfit! Her shorts have stars on them & her hoodie is so stinkin' patriotic! I wish I had a picture of her standing up in it, but she wasn't cooperating - boo!

hoodie - Gap // star shorts - Gap // espadrilles - Gap
This is my "warm, but not hot" option. I love the star tank & it was originally on back order. I was super excited when it arrived on Friday! I love the print!
skinnies - Old Navy // red tank - Target // star tank - J.Crew Factory // watch - Coach
Ella wore this for Memorial Day, but parts of it will be making a repeat appearance!
romper, flip-flops, and headbands - all from Children's Place
This is my "hot" option. I love that the tank is baggy & that my shorts are longer. I went with the 5" version from J.Crew & am so happy with them.
shorts - J.Crew // tank - Hello Apparel // watch - Coach
Happy Fourth from Our Family to Yours!
Bri: maxi - Hive & Honey // shades - Coach
Ella: romper & hat - Crazy 8
Eric: shirt & shorts - Gap // shades - Ray Bans