This weekend was such a breath of fresh air, because for the first time in forever, there was nothing on our calendar. No Girl Scouts, no cheer, no family visiting, no travel planned. It was just a simple weekend at home & was exactly what we needed.
On Friday night, we picked up Ella from her after school program & all headed off to Wegmans for dinner and grocery shopping. We all got exactly what we wanted off the hot foods bars & then went upstairs to eat. The girls were able to color & chill out at a kids table, while Eric & I were able to have adult conversation at our own table.
After eating, we ventured into the grocery section & bought all the things. My hands were totally full because Ella refused to ride in the cart, so I didn't get an actual picture, but just envision this... except a lot healthier!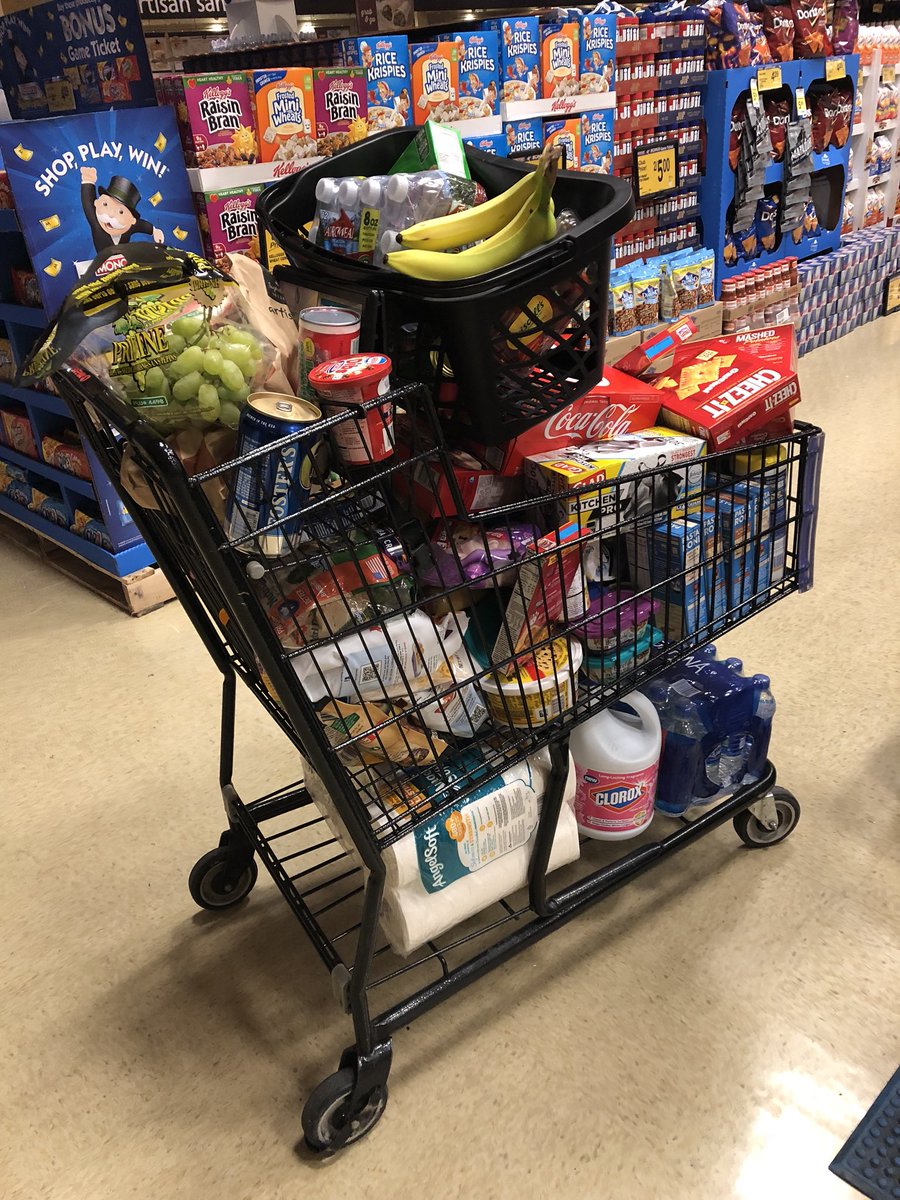 On Saturday, we went to the gym & met my sister's family there. The kids love to play in child care together & it's so much nicer to work out with my sister than alone. I got in 30 minutes of cardio followed by lots of weights. Saturday workouts are just my favorite.
After the gym, I ran home & got changed, then Olivia & I headed to meet my sister for a little shopping. We rarely take the little girls with us - it's almost always Ella & Grayson that go with us - but we decided to give them a turn and had so much fun. We ate lunch together...
Then Olivia convinced us all to ride the carousel.
The girls were worn out after that, so we did our shopping in (mostly) peace. I had a few things to return & also picked up a few of my hair must haves at Sephora. My mission though was to find some new home decor to spruce things up a bit... but more on that saga another day.
While I was out with Liv, Eric sent me picture of Ella working on her Lego set. Can you even handle her pose? My sister & I were cracking up!
We got home just in time for me to make Andrea' Tuscan Chicken Pasta for dinner & OMG was it good! The whole family really enjoyed it & it will definitely be entering our dinner rotation. Eric & I really want to try a new recipe every week this year, and this put us off to a good start.
We watched some football, tucked the girls in for bed, and then I taught a few of my Chinese students with
VIPKid
. Such a wild Saturday night, but at least I know I made up for my shopping purchases earlier!
Sunday's are my days completely off from teaching - no real school & no Chinese students - so I savored every minute that I slept in. Somehow, I stayed in bed until 7:30 and Olivia even slept until 8:15. Ella was up, but she's old enough to entertain herself for awhile. I made the two of us breakfast when I woke up & then enjoyed conversation over eggs with my oldest.
Once everyone was up & fed, I did a bunch of cleaning, then got ready for the gym. I was able to fit in 40 minutes of cardio and was extremely sweaty by the time I finished.
On our way home, we grabbed some Dunkin' and then swung through the car wash. Do anyone else's kids just love the car wash? Mine narrate the entire process, even though we do it all the time. So funny the things kids love...
While I showered, these three were busy downstairs making homemade pizza! The girls love cooking with their dad!
My niece has been in the hospital this week & Sunday afternoon Ella & I went to visit her! Ophelia has a condition that forces her to go into the hospital more than we'd like, but this was the first time Ella was able to come visit. They had the best time in the floor's playroom!
We were just really glad that we got to cheer her up & distract her for a bit!
The rest of Sunday was spent planning, organizing, writing this blog post, and packing for another busy week! If you have a chance, please say a prayer for my sister as she goes back to work after six months off. My nephew will be starting day care with the little girls & my brother in law is out of town too. It's just going to be crazy & I know she'd appreciate any good vibes you send her way!
Happy Monday Friends!